Smart Boxing equips your store with accurate dimensional shipping. Our proprietary boxing system compares the dimensions of products in the cart with available package sizes, then calculates the most efficient packaging method possible. Live rates are returned from your preferred carrier using the packaging information sent by Smart Boxing.
If you've got questions, check out our FAQ page, and if you need assistance at any time, please contact us. We're here to help you!
Getting Started
After installing Smart Boxing from the Shopify app store, you'll begin at the Activity page, where you'll be asked to complete the Setup Checklist.
Setup Checklist
The Setup Checklist is made up of seven (7) basic steps that should be completed to ensure your success when using Smart Boxing.
The Progress bar indicates how far through the setup process you are. Below the Progress Bar is the list of steps we recommend you complete before using Smart Boxing.
Click Get Started beside each of these steps to complete the setup process.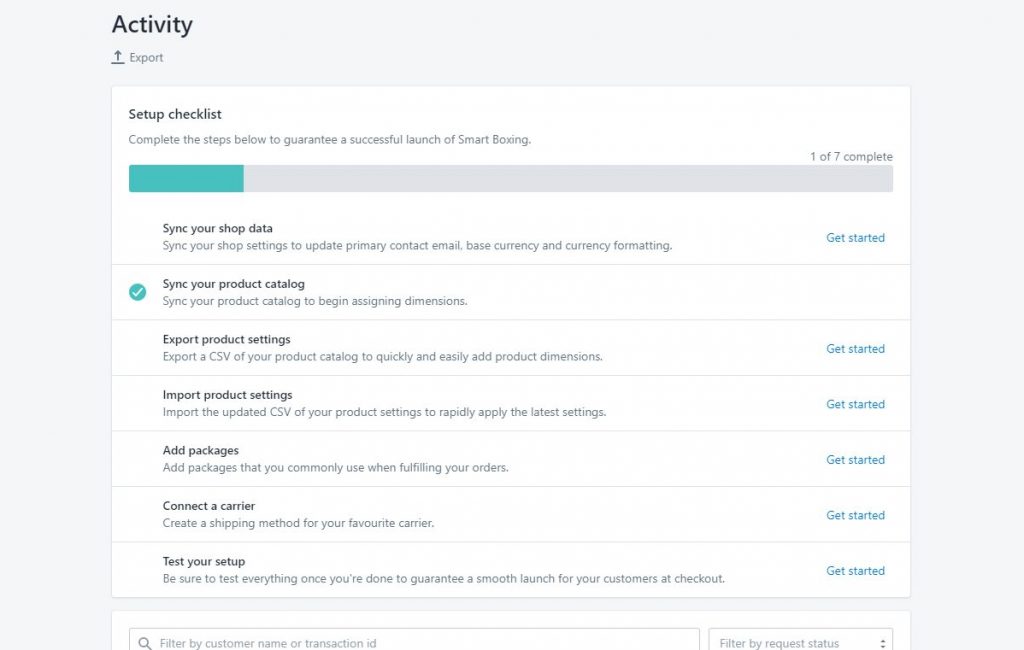 Activity Page
The Activity Page is the Smart Boxing dashboard. This is the starting point each time you return to the app.
Activities are recent shipping cost calculations that have been returned by Smart Boxing, with the most recent Activity being displayed at the top. You can access any of your recent shipping calculation activities from the past 14 days.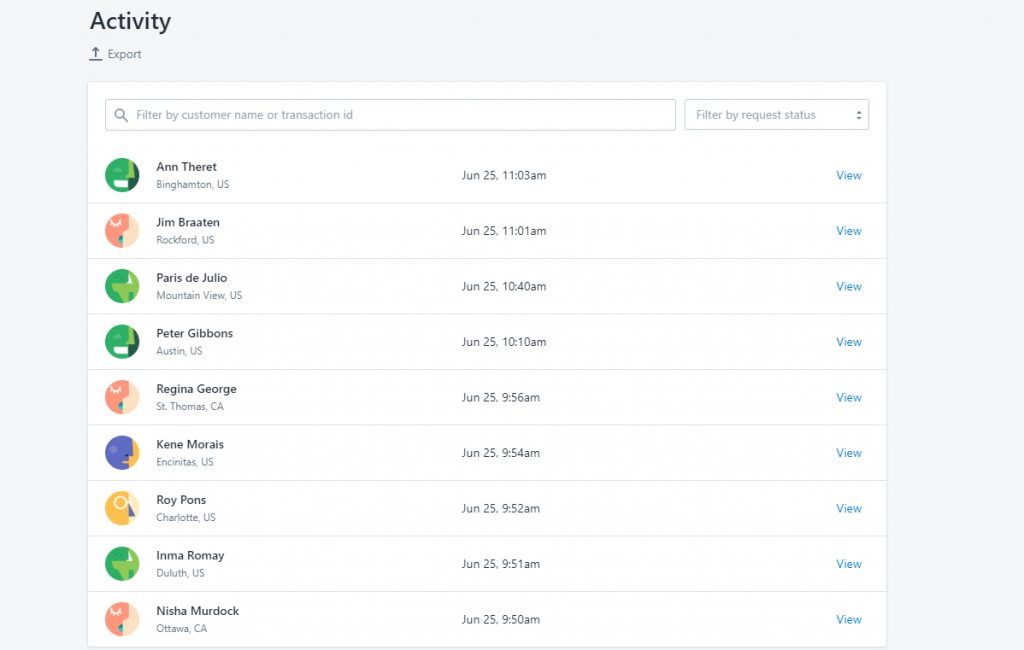 When you click on an Activity you'll be able to see details about the shipment, including the items in the cart, the shipping method, address information, and other details about the transaction.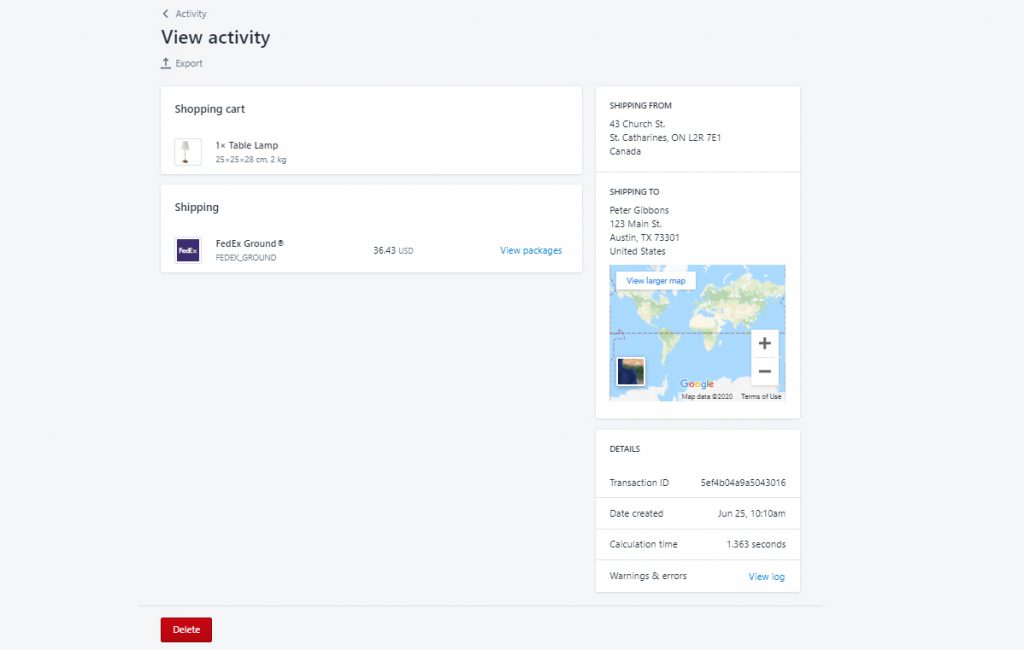 Smart Boxing starts in Setup & Testing Mode. While in Setup & Testing Mode, Smart Boxing is completely FREE to use. You can take as much time as you need to get Smart Boxing set up exactly the way you want before activating your free trial.
Once you've finished testing and you're happy with your setups, activate your 14-Day FREE Trial by clicking the Launch button on the Activity page or Billing on the main menu.
The Basics
To use Smart Boxing you'll need to create at least one Package and at least one Shipping Method. You'll also need to make sure that all of your products have dimensions.
Packages can be rigid, fixed-dimension boxes or flexible, soft-shell packages like poly mailers.
Shipping Methods connect Smart Boxing with your preferred carriers, allowing you to calculate accurate live shipping rates at checkout.
Product Dimensions allow our advanced boxing system to accurately determine the most efficient packaging for the order before calculating a live rate.
Additionally, you will need to ensure that the third-party Carrier-Calculated Rates feature is enabled on your Shopify account. You will know if this feature is not enabled if you see this banner at the top of your Activity page:

How To Find Answers
We've designed Smart Boxing to be easy to use. If you do get stuck or have a question, simply click Support on the app's main menu, then click the Go To Help Center button to return here, the Smart Boxing Help Center.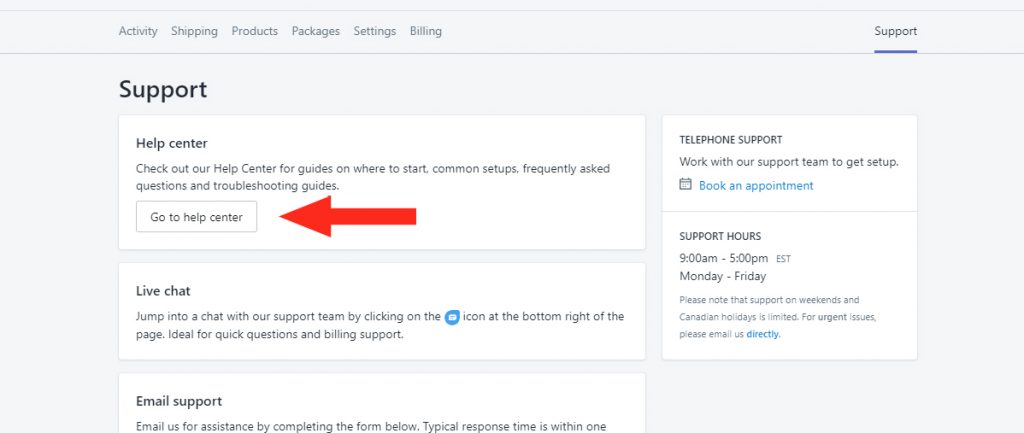 Type a topic into the Search field or click one of the categories.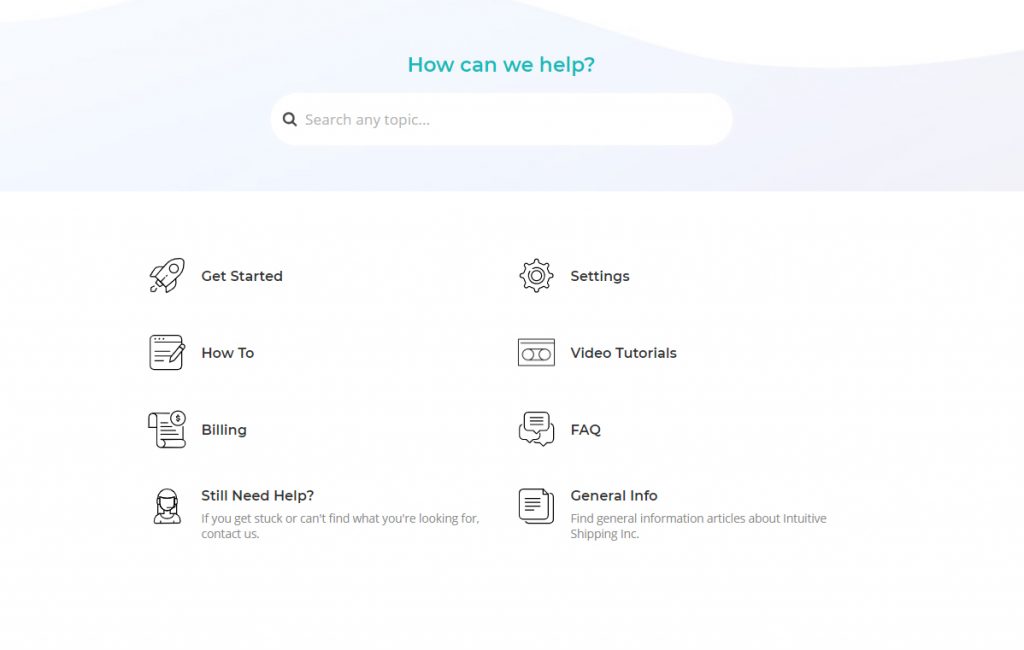 To learn more about specific Smart Boxing features, click on any of the 'Learn More' links found throughout Smart Boxing.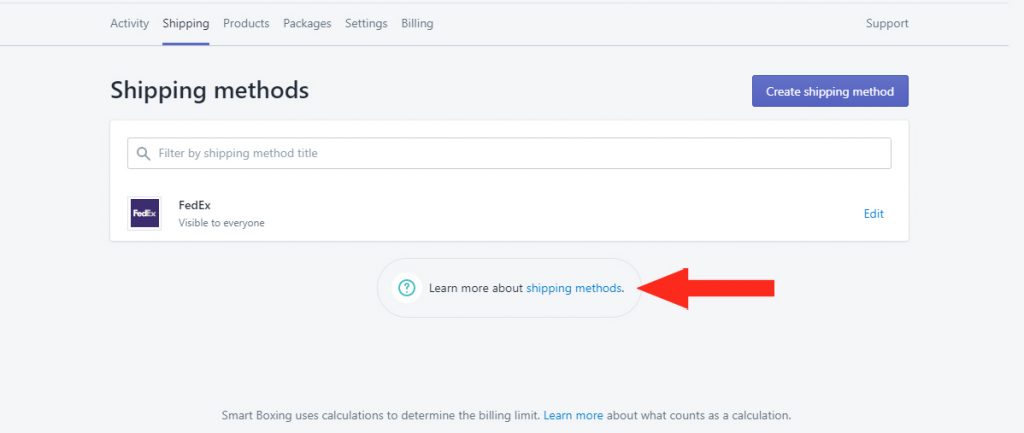 App Status
Our Status page provides real-time updates during app downtime caused by maintenance and unforseen technical issues. We also provide updates when our carrier partners have rates-related issues.
Be sure to add the Status page to your browser bookmarks. Or click the Subscribe To Updates button at the top of the Status page to receive status alerts by email.
Still Need Help?
If you get stuck and can't find the answers you need in the Help Center, please don't hesitate to contact us.
You can also send a Support Request directly from Smart Boxing. To do this, click Support on the main menu.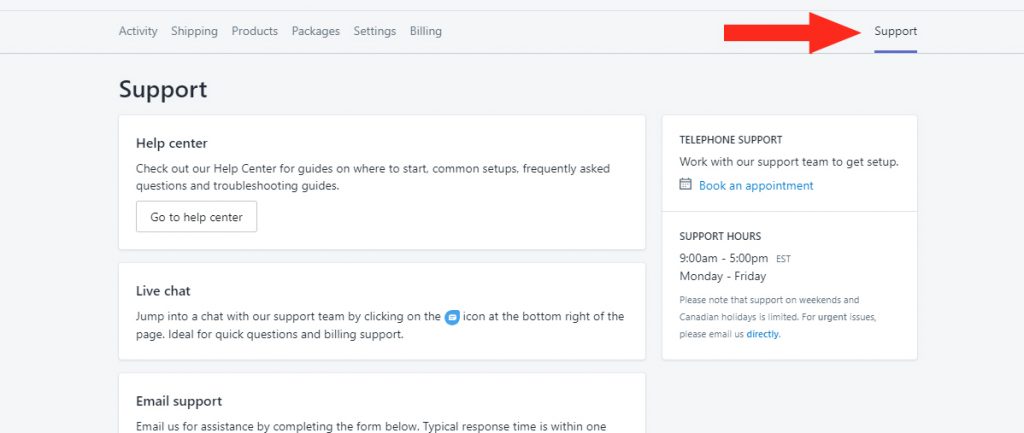 Then, type the details of your Support Request and click the Send button to submit your request to us. We're here to help!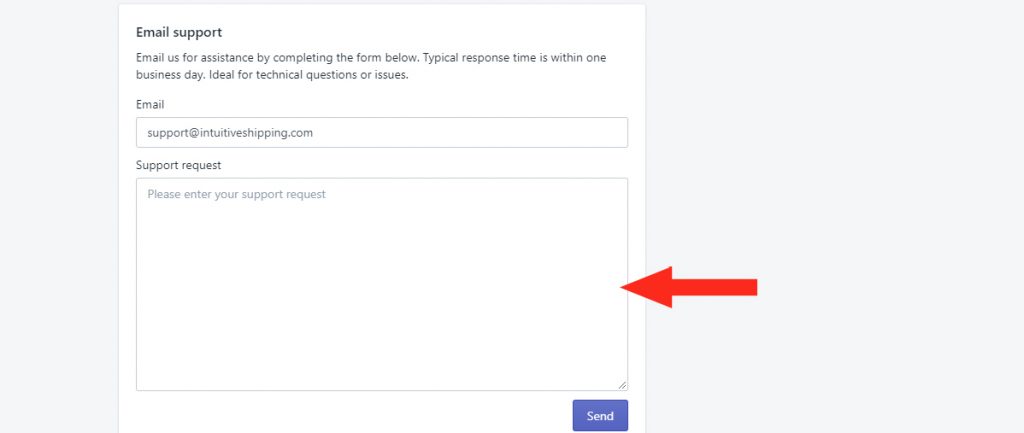 Live Support
If you'd prefer to speak with someone at a time that is convenient for you, get real-time onboarding or troubleshooting assistance from our knowledgeable Customer Success team!
Book your appointment here.
Get A Demo
Not sure if Smart Boxing is the right fit for your store? Get a live demo from one of our amazing team members! Book your demo appointment today.
What's Next: Assign Product Dimensions